Once again, it's been too long since I've posted layouts! I've got a bundle today. So, picking up where I left off...
I was excited to use this new
School is Cool kit
- I LOVE the doodles and wordart! I could not resist using that background paper.
This kit is the free with purchase this month at
Pixels & Company
. Most of what I used is from part one (available until Aug 14 - part 2 is equally awesome and releases Aug 15 and runs through the end of the month). Perfect for a black and white photo of my growing boy.
Ever since I took this pic I knew it was destined for a layout! I used it for the
template challenge
at MSA - grab the free template
here
.
created with Real Life in Pockets: iCaptured by Just Jaimee and Mommyish; Fuss Free: My Scrapbook Art 12 template by Fiddle Dee Dee Designs; Old Newspaper Types font
I'm a little late on this one - last month at MSA, Kimberlee did a
journaling challenge
where you scrap "by the numbers". I thought this was such a clever idea, and a fresh way to document life! I used Just Jaimee's August Storyteller collection, and this layout was featured in the latest issue of
Storytelling (vol. 5)
.
Little artist? More like little stinker!
created with Little Artist kit by Laurie Ann and Stolen Moments Design Pea Angedawn font
I loved this photo so much, I wanted to keep it simple and sweet. I used
Stolen Moments
contribution to the big
We Are Storytellers
collab (a piece is being given away free each day at
The Lilypad
).
created with We Are Storytellers contribution by Stolen Moments Design; TXT Longhand and Slab Tall X fonts
Big news around here is we now own a piano! My parents very kindly gave me their piano - the one I learned to play on. It was once my grandmother's, so it's been passed down a few generations and I'm so glad my boys get to learn on it. I used
Deena Rutter's
new
Becoming kit
- she was the featured designer at
Digi Night Out
earlier this month and this was the free kit. It was so fun to meet her in person - she's super sweet and an amazingly talented designer!
created with Becoming kit by Deena Rutter; Verdana and where starts shine the brightest fonts
Every year we grow veggies, and every year the peas are our favorites! I used Stolen Moments'
A Bit of Earth kit
to document the peas from planting to harvest.
I love these
state cards
from
Digital Design Essentials
! I thought about using them on a Project Life layout, but decided instead to document the different states we've lived in. I love using that stamping effect - you can find a tutorial
here
.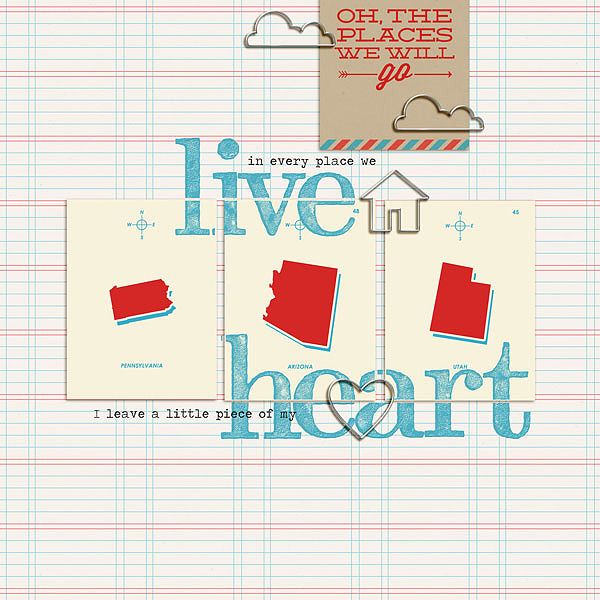 created with Notebook Essentials paper pack; Par Avion alpha; Par Avion journal cards; Vintage State Flash Cars vol. I & IV; and Wired: Travel all from Digital Design Essentials; Traveling Typewriter font
This was a layout I started a few months ago, and finally got around to finishing while I was at
Digi Night Out
. I always have a few of those unfinished pages in my "works in progress" folder! (Some have been there a few years... eek!)
created with Life is God kit by Studio Rosey Posey; 1942 Report font
This is a two page spread I did with the latest edition of
Real Life in Pockets
by
Just Jaimee
and
Mommyish
. I LOVE, love, LOVE this kit! It's my favorite camping kit ever! And I love pocket pages for scrapping big events that have tons of photos, like our recent camping trip/family reunion.
I don't think I did this one for a challenge or creative team assignment or anything - just because. I really love everything about this one - the photo, the shadowing, the journaling, and the design.
created with Boardwalk kit by Laura Passage; Rockwell and Traveling Typewriter fonts
That's all for today! Thanks for taking a look :)