Yes, you read that right - I'm all out of order.As soon as I finished week 39 I started on week 40. But for some reason I just wasn't feeling it so I jumped ahead to the most current week (42) instead. Weeks 40 and 41 are still waiting to be scrapped. Week 43 is actually finished, but I won't be posting it yet because I used product that won't be released until tomorrow. (The November Storyteller from Just Jaimee, in case you're curious.)
Week 39
created with September Storyteller Collection by Just Jaimee; The 52 Weeks by Heather Joyce; Everyday Life vol. 1 templates by Laura Passage; CK Jot font


created with September Storyteller Collection by Just Jaimee; The 52 Weeks by Heather Joyce; Everyday Life vol. 1 templates by Laura Passage; CK Jot font - See more at: http://www.myscrapbookart.com/gallery/showphoto.php?photo=753461&ppuser=4013#sthash.N9a3Kp6F.dpuf
Left side:
Right side:
For week 42 I used the lovely new fall collection from Digital Design Essentials. I love that it's not a traditional fall palette - it's blues, browns and gold - yet it is perfect for fall.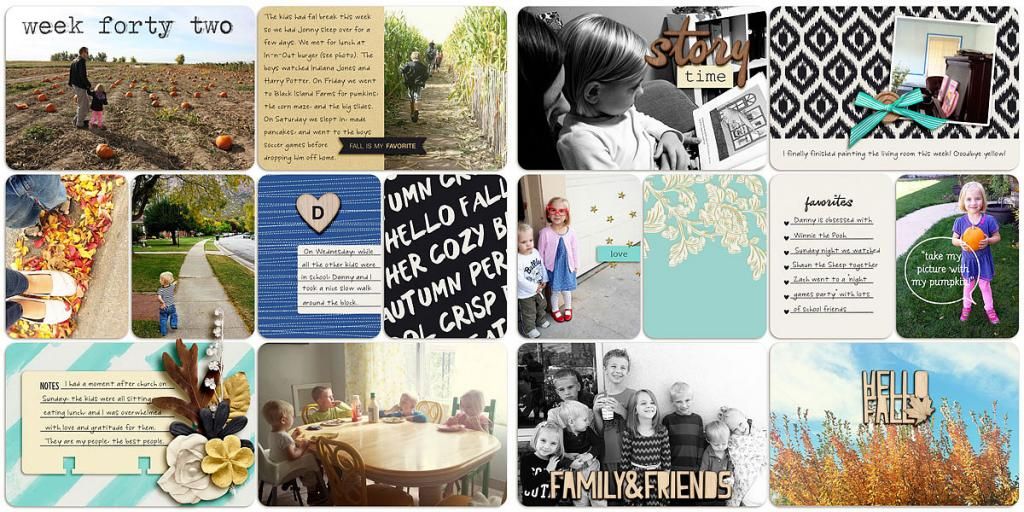 created with Happy Fall collection by Digital Design Essentials; The 52 Weeks by Heather Joyce; Everyday Life vol. 1 templates by Laura Passage; CK Jot and Danze fonts
Left side:
Right side:
Thanks for having a look - and hopefully I'll be filling in the gaps very soon.